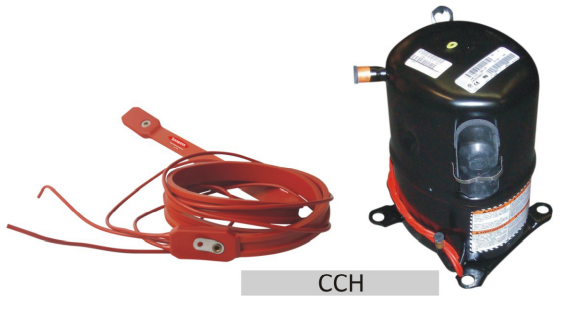 Function & Introduction
When the air conditioner is used under severe cold condition, driver engine oil inside can condense, and affect the normal starting of the unit. 
The heating belt can promote to thermalize engine oil, and help the unit to be started normally.
It can protect compressor from being damaged in the starting in cold winter, and prolongs the service life. In cold winter, engine oil condenses, hard friction can generate in starting, and may cause damages.
Technical Parameters:
Continuous max Use Temperature : 250 Deg C
Minimum Ambient Temperature : 40 DEG C below Zero
Max Surface Power Density : 2W / cm2
Min Making Thickness : 0.5 mm
Tests
Voltage : 230V / 1 PH / AC / 50 Hz
High Voltage : Withstand >5KV
Insulation Resistance : > 10M-2
Power Input : + 5%
Other Test to ensure quality
Applications Range
Cabinet Refrigeration units / low Temp. Refrigeration Units.
Wall – Mounted Air conditioners
Window Air conditioners
Characteristics & Features
Random bending and winding according to the demand of to be heated component, small occupied space and volume.
Simple and fast installation mode
Sleeve silicon rubber insulator on heating body
Tin copper braided layer can prevent machine from being damaged, and conduct electric power to the ground
Moisture resistance entirely
Customize according to the required length
Core cold tail end.
please contact email our 24X7 Sales, Customer Support Service, Enquiry more ask questions.
We are the renowned manufacturer, supplier and exporter of highly reliable gamut of Heating Elements. Our highly experienced professionals use advanced machinery, latest technology and high grade raw material to manufacture these products. The offered range of products is highly appreciated by our clients, owing to their excellent performance, longer functional life, high efficiency and less maintenance. Furthermore, the offered range of products can be availed in various technical specifications at affordable prices.
Submission Products Requirements