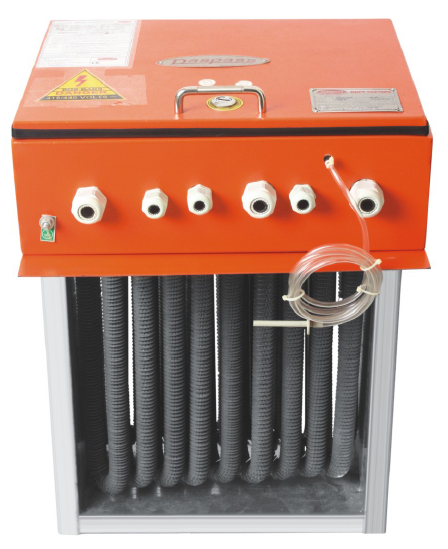 Application
Air-conditioning (AHU – FCU), High Temperature Batteries, Load Bank of Generators, Industrial Drying Ovens, Heat Treatment, Offices, Buildings, Instituties, Retail Stores, and Much More.
Available Types
Unitary Commercial Industrial Heaters
Custom – Built (CB) Duct Heaters
Stock – Line (SL) Duct Heaters
Remote Panel (RP) Duct Heaters
Flange Mount (FM) Duct Heaters
Slip – Mount (SM) Duct Heaters
Round Mount (RM) Duct Heaters
Bottom Mount (BM) Duct Heaters
Double Deckkar Mount (DDM) Duct Heaters
Characteristics
Capacity-3Kw to 1000 Kw
Operating Voltage 110, 220, 230, 415,
600 (1-3 PH) AC/50-60 Hz
Features:
Constructed as standard units
Tailored to suit Customer's Specific requirement
Designed for operation in temperature conditions upto 950 F
Suitable for use in relative humidity upto 90%.
Construction:
Incoloy – 800, Stainless Steel – 321 Sheathing of tubular elements with / without finns. U/M shape elements are mounted on a detachable terminal plate using galvanized retainers. A mounting flange permits attachment to the duct work. Individual elements are easily replaced or interchanged. Where the application calls for a higher temperature, the case is constructed from heat resisting steels. A thermal Cut-out fitted for protection against overheating. Safety Auto Thermostat Cut-off required temp. Control, contractor and fan interlock device, SSR, SCR, BMS Compatible are available as optional extras, M / Explosion resistant covers (Flame Proof) and element are also available. Zero Clearance Construction / selected elements by calculated wire temperature method.
OPEN COIL CONSTRUCTION :
Heating Elemetn Shall be Open coil 80% nickel 20% chrome type resistance wire shall be machine crimped into stainless steel. Terminals are supported by ceramic bushings staked into supporting brackets.
DUCT HEATERS FOR EXPLOSION / HAZARDOUS AREAS : –
Daspass offer a wide selection of custom built electric duct heaters designs for outdoor, wet, dusty typical applications include use with roof top air-handling unit, in wash down areas such as food processing plants, wet & humid spaces neat indoor swimming pools, Sub-marine or Casino boat applications including
shipboard use.
please contact email our 24X7 Sales, Customer Support Service, Enquiry more ask questions.
We are the renowned manufacturer, supplier and exporter of highly reliable gamut of Heating Elements. Our highly experienced professionals use advanced machinery, latest technology and high grade raw material to manufacture these products. The offered range of products is highly appreciated by our clients, owing to their excellent performance, longer functional life, high efficiency and less maintenance. Furthermore, the offered range of products can be availed in various technical specifications at affordable prices.
Submission Products Requirements