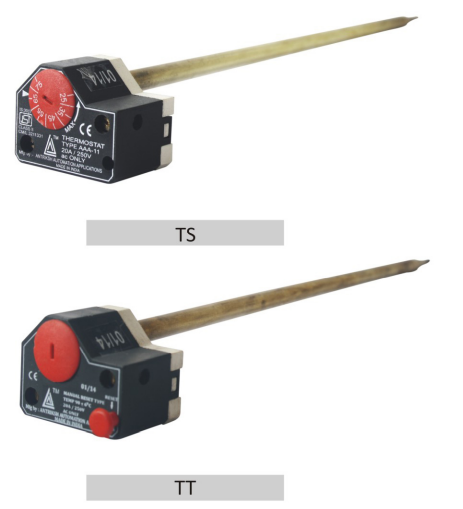 Principal of Operation
With temp rise, the principal of differential expansion of brass tube and a Nickel / Iron (Invar) Rod is used to actuate a highly accurate shap action micro gap switch located in the head which makes it keep the temperature constant within the differential i.e. A single pole, single throw, normally closed circuit braks (opens) on rise of temperature.
Applications
Thermostats are ideal for temperature control of Electric Geysers, Boilers, Ovens, Panel Boards, Air Handling Units Etc.
Construction
The micro gap switch assembly in mounted on a heat resistance base, with rigid brass pillar terminals. Heavy duty contacts are provided for long trouble free life. A thermosetting cover with clear and precise graduations is provided along with a setting knob. Thermostat can be fixed in any position.
These are available in standard stem lengths of 7" (175 mm) / 230 Volts and 11" (275 mm) / 230 Volts, 18" (457 mm) / 230 Volts, on the operational load of 20 amps. Also available in 110 V & 415 V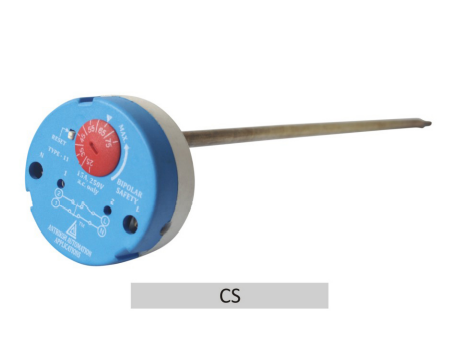 Features:
Combistat control and safety function Patented MFS technology or traditional bimetal for independent non self resetting safety option Direct plug-in to heating element to reduce wiring and mounting costs Tamper proof housing Factory pre-set fixed temperature, OEM adjustable or end-user adjustable temperature Multiple control knob options connection for signal lamp.
Description:
Combistat with single pole stem control and double pole safety limiter
Operation:
The differential expansion of the sensing element causes the opening of a snap-action switch in the thermostat head. In case of
abnormal temperature rise, the patented MFS technology in the stem or traditional bimetal ensures double pole safety. The limiter is
manually resettable.
please contact email our 24X7 Sales, Customer Support Service, Enquiry more ask questions.
We are the renowned manufacturer, supplier and exporter of highly reliable gamut of Heating Elements. Our highly experienced professionals use advanced machinery, latest technology and high grade raw material to manufacture these products. The offered range of products is highly appreciated by our clients, owing to their excellent performance, longer functional life, high efficiency and less maintenance. Furthermore, the offered range of products can be availed in various technical specifications at affordable prices.
Submission Products Requirements